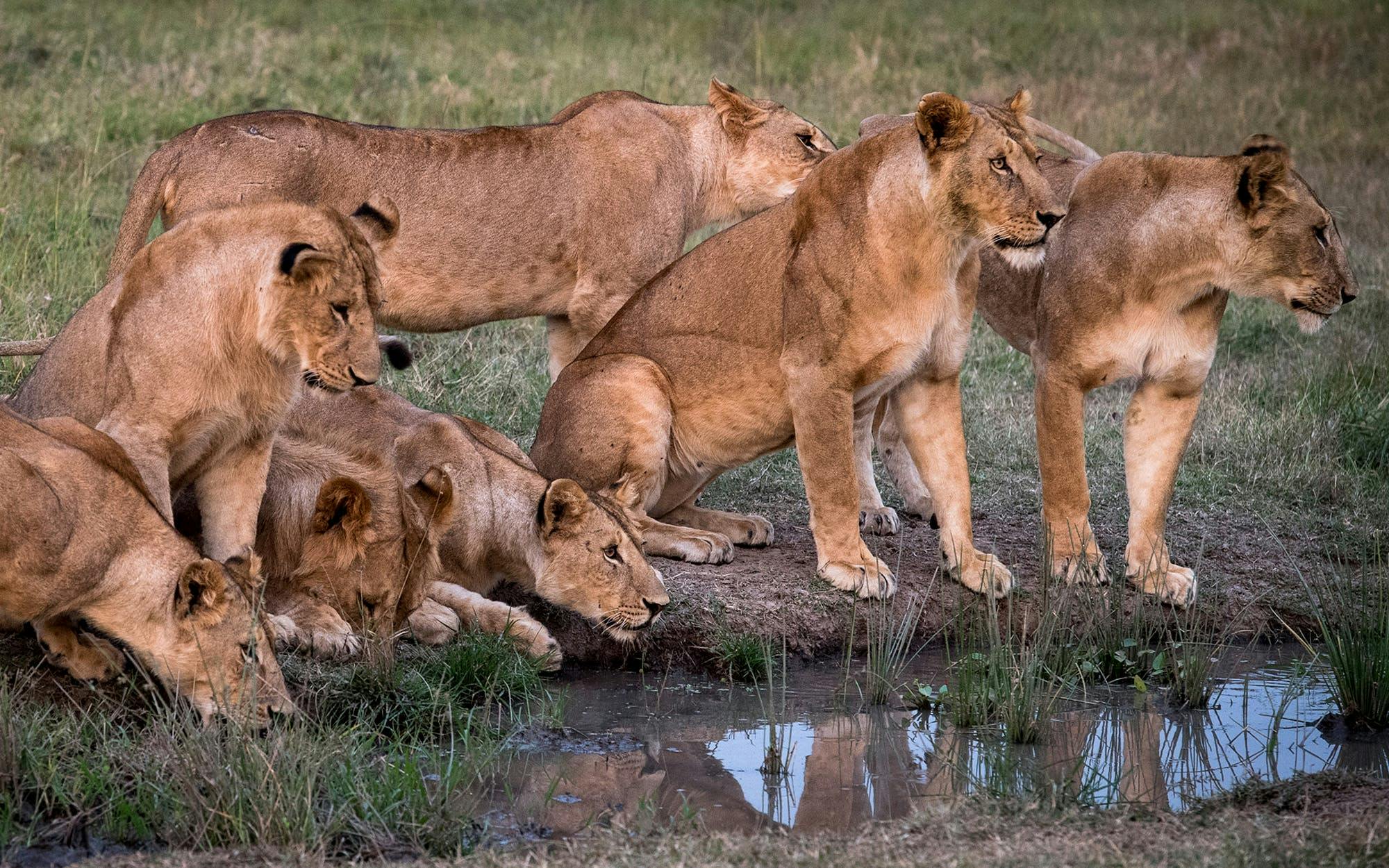 Justin Winters

Co-Founder and Executive Director

Driven by a passion for nature, Justin Winters is committed to democratizing climate philanthropy in order to create an inclusive and impactful movement to address the climate crisis from the ground up. She is the Co-Founder and Executive Director of One Earth, a philanthropic organization working to galvanize science, advocacy and philanthropy to drive collective action on climate change. Through One Earth, she is focused on creating a vision for the world that is possible by 2050 – one in which humanity and nature coexist and thrive together. This vision is based on three pillars of action: 100% renewable energy, protection and restoration of 50% of the world's lands and oceans, and a transition to regenerative, carbon-negative agriculture. Prior to One Earth, Justin served as Executive Director of the Leonardo DiCaprio Foundation for 13 years, where she built the organization's grant-making program, which awarded over $100 million in grants across 60 countries and created a series of innovative philanthropic funds, including Oceans 5, Shark Conservation Fund, The Solutions Funds, Lion Recovery Fund, Elephant Crisis Fund, and Quick Response Fund for Nature.

Karl Burkart

Co-Founder and Managing Director

Karl is the Managing Director of One Earth, and formerly the Director of Media, Science & Technology at the Leonardo DiCaprio Foundation. One Earth supports academic institutions and NGOs working on the cutting edge of climate and energy science, biodiversity mapping, and sustainable agriculture. Through grantmaking and development capacity, the program is particularly focused on scaling innovative applications in big data, remote sensing, and artificial intelligence to accelerate land and ocean conservation efforts. Karl also oversees production and distribution of content across One Earth's website and social media properties and affiliated campaign initiatives, such as We Love the Earth and the Global Deal For Nature. Prior to his work at the foundation, Karl created Greendig, a blog exploring the intersection between technology and environmental sustainability. He produced and wrote 'Planet 100', the Discovery Network's first online video news show, and he led digital advocacy for the TckTckTck campaign, a global network of more than 450 NGOs working to secure a strong international climate agreement under the UNFCCC. Karl is co-author of "A Global Deal for Nature: Guiding Principles, Milestones, and Targets", a groundbreaking paper published in Science Advances in 2019 that sets out the evidence base for One Earth's ambitious conservation agenda. He is also a contributor to "100% Clean and Renewable Wind, Water, and Sunlight All-Sector Energy Roadmaps for 139 Countries" published in Joule in 2017.

Nuna Teal, PhD

Program Director

Nuna will join in implementing the strategic vision of One Earth through support of on-the-ground action. She grew up on a large, diverse organic farm in Vermont that was also the site of a project by her father to study, domesticate and protect muskoxen for the economic use of their fine wool by indigenous peoples of the Far North. Conceived on Spitsbergen, Nuna traveled with the Sami and their reindeer, then migrated between the farm and Arctic wilderness and communities with the muskox project. After traveling the world on her own, studying dance and completing graduate studies in ecological anthropology, she returned to the family farm to rediscover a love for agriculture and raise two daughters. During the UN Year of Soil, she joined the Jena & Michael King Foundation in Los Angeles and served as its Executive Director for 5 years. Focusing on regenerative agriculture, healthy soils and climate, and also the general health of all beings, biodiversity and living systems, the foundation gave special attention to the rising youth and indigenous movements. Nuna currently serves on the Board of the Mni Wiconi Health Clinic & Farm, a model for decolonized, Lakota designed care to be built at Standing Rock.

Edward Bell

Program Manager

Edward manages the digital platforms and social media channels for One Earth. He also handles content production for OE's affiliated campaigns, such as We Love The Earth and the Global Deal For Nature. He assists the Managing Director on all communications and coordination. Previously, Edward managed the Changefactor program that designed and built multiple websites for philanthropic coalitions, including the Lion Recovery Fund, Elephant Crisis Fund, Shark Conservation Fund, Quick Response Fund for Nature, Before the Flood, and Oceans 5, among many others. Edward led the creation and distribution of all social media content for the Leonardo DiCaprio Foundation and the Global Call for Climate Action. He has specialized in building and expanding digital presences for climate coalitions and environmental organizations since 2011. He lives in sunny Los Angeles with his partner and their collection of exotic terrariums, unconventional pets, and a ridiculous amount of comic books.

Orquidea Hale

Program Associate

Orquidea Hale comes from nearly 10 years in the food industry, from hospitality to food production and natural grocer management. From this practical knowledge, she has developed a deep understanding and commitment to sustainable change in the food system. She received her Bachelors in Business Management at San Francisco State University and recently completed a certificate in Food Studies from UCLA. As Program Associate with One Earth she ensures coordination between projects and helps with the grant management process.

Edith Espejo

Program Associate

Edith supports OE administration and social media platforms. She has a B.S. in Environmental Biology and a minor in Regenerative Studies from California Polytechnic University, Pomona. There she helped develop a mobile food pantry, ethnobotany workshops, and spearheaded food justice and diversity ambassador initiatives on campus. She is passionate about grassroots organizing and the intersections of the environmental and social equity.

Patrick Stephen Brown

Digital Media Producer

Patrick is a content producer who specializes in video editing, web and graphic design, and online presence. He has worked with numerous clients, most notably: The Nebraska Attorney General's Office, Bruning Law Group, The Nebraska American Civil Liberties Union, The Office of the New York State Attorney General, Author Pamela L. Newton, and Cubcoats. Patrick is an alumni of The Los Angeles Film School and the University of Nebraska-Lincoln.

Lindsey Jean Roetzel

Writer and Content Producer

Lindsey has written a variety of content, from children's storybooks to commodities trader manuals, all with the firm belief everything has a story to tell. A former writer and producer for Totally TV, TubeScience, and Cubcoats, she believes the best way to make people pay attention and care is to make material lively and engaging. Raised in Nebraska and currently living in Los Angeles, she loves the outdoors and can usually be spotted with her head in a book.

Daniel Whyte

One Earth Fellow, Nigeria

Daniel Whyte is a storyteller and journalist with a deep interest in development. He's the youngest of this group of Fellows! At just 20 years old, Daniel already holds a BA in English and Literary Studies (First Class Honours). In 2019, he was selected as one of the top hundred young journalists and media makers in the world by British Council and he received full sponsorship to attend the 2019 Future News Worldwide conference held at the Thomson Reuters Headquarters, London, UK. He has previously written for Stears Business, HumAngle Media, International Centre for Investigative Reporting, The Cable Newspaper, among others.

Milton López

One Earth Fellow, Peru

Milton Antonio López Tarabochia hails from Lima, Perú. He has published in Mongabay USA and Mongabay Latin America about a major oil spill in Peruvian waters . He is very proud of these publications, as he should be, because he was a nominee with the team to the National Journalism Award in the Writing Category. After this publication he continued writing many similar articles, which influenced the Government's decision to create a special fund for remedying the oil spill catastrophe.

Adriana Navarro

One Earth Fellow, Mexico

Adriana Navarro Ramírez is a Mexican freelance journalist. She has worked in different mass media such as El informador, Mural, Este País NTR, CNN México, Radio Universidad de Guadalajara, Canal 44 and La Gaceta. In the last couple years, she has had the opportunity to travel to seasides of Mexico, Guatemala, Belize and Honduras to write chronicles about the way in which the communities have organized to protect their territories and their seas. The chronicles were published in different books: Written with Blue Ink 1 and 2; Leadership in the Mesoamerican Reef and Women of the Sea sponsored by the KFW German Development Bank and Mar Fund, an independent international non-profit organization.

Angelica Yang

One Earth Fellow, Philippines

Angelica Yang is a 23-year old, award winning journalist based in Manila, who has published across all major Philippines newspapers, including The Philippine Daily Inquirer, GMA News Online, ABS-CBN.com, and Rappler. While studying Journalism at the University of the Philippines, she won the 2019 Chit Estella Student Journalism Award for "Best in Journalism Research" and the 2018 UP Science Journalism Award for "Best Science News Story."

Vaishnavi Rathore

One Earth Fellow, India

Vaishnavi Rathore is based in New Delhi, India and is an Environment Associate with The Bastion—a development journalism organization. Stories of environmental justice and democracy, governance of commons, forest and land rights specifically pique her interest. Before she ventured into full-time environmental journalism, she spent two years working on ground with communities and their relationship with natural resources. Her experience in the state of Gujarat with Foundation for Ecological Security exposed her to challenges of localizing governance, while working with forest dependent communities in the Himalayan landscapes of Himachal Pradesh introduced her to the Forest Rights Act. There, she was with Himdhara Environment Collective, and was involved in spreading awareness on the Act, facilitating its implementation, researching and advocating on it.

Marta Montojo

One Earth fellow, Spain

Marta Montojo is a Madrid-based freelance journalist who specializes in environmental and climate change reporting. For the past four years she has worked with a variety of Spanish media outlets including La Vanguardia, eldiario es, Agencia EFE and Radio Intereconomía, among others. She has covered environmental issues from Spain, Denmark, Australia, India and the US, and she has also lived in Cuba, where she did research for a journalistic project still ongoing. She is now a regular contributor to specialized magazines such as Ballena Blanca and Ciudad Sostenible as well as to Ecogestiona, a weekly radio show focused on environmental economics.