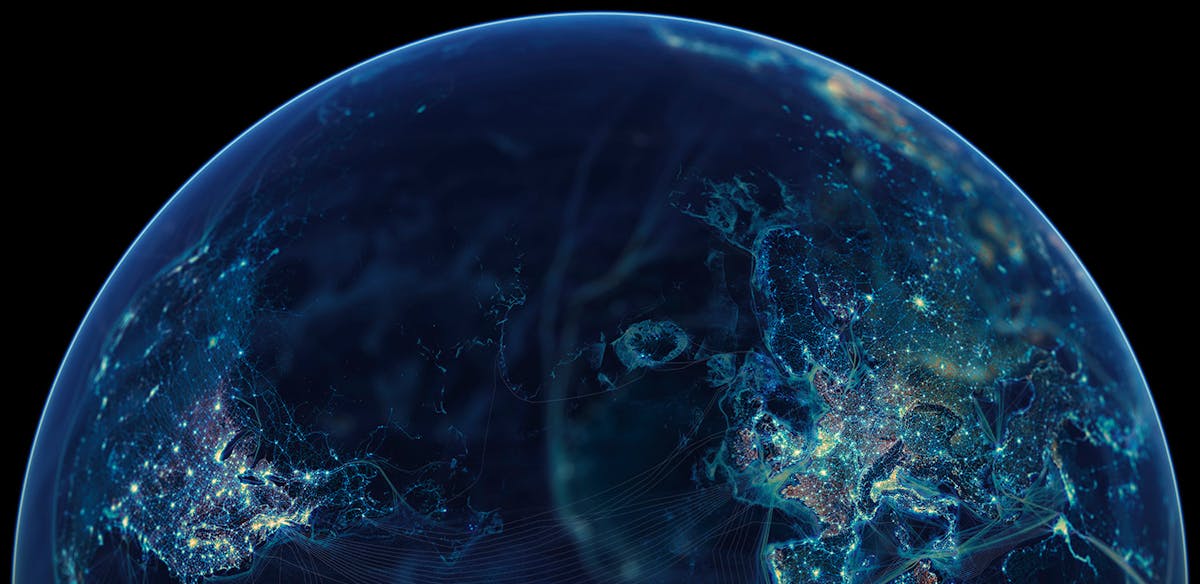 One Earth is a nonprofit organization working to accelerate collective action to solve the climate crisis through groundbreaking science, inspiring media, and an innovative approach to climate philanthropy. The solutions for the climate crisis already exist, and the latest science led by One Earth shows we can achieve the critical 1.5°C goal through our three pillars of collective action:
A just transition to 100% renewable energy;
Protection and restoration of half of the world's lands and oceans;
A shift to net-zero food and fiber systems.
The goals of the three pillars of action may sound daunting, but millions of people and organizations worldwide are already driving this transformative change. With proper resources and support, these efforts can quickly build momentum and play a critical role in solving the climate crisis in time.
Less than 2% of global giving supports environmental issues and climate change, and just a fraction of that funding makes it to on-the-ground climate solutions led by those on the frontlines. And less than 0.2% of foundation dollars go to supporting women-led initiatives. We are committed to catalyzing a new resource paradigm - it's an opportunity we cannot afford to miss. One Earth's mission is to inspire everyone to be a philanthropist for Earth, powering change from the ground up by scaling resources for and amplifying the stories of the incredible people and organizations who are actively solving the climate crisis by protecting and restoring nature and transforming our food & energy systems.
At One Earth, we believe it's possible to solve the climate crisis. We have a unique model that drives this optimism. Our science program is building a roadmap of the solutions that are necessary to limit global temperature rise to 1.5°C. Through a highly collaborative and innovative approach, our philanthropy program works to quickly scale resources for on-the-ground climate solutions around the world. And our media program is building a new narrative on climate that educates everyone about climate solutions and inspires everyone to actively create the vibrant, just future that is possible.
Actionable Science: Proving What's Possible
One Earth develops and supports cutting-edge, actionable science that can inform and influence decision-makers to achieve Paris-aligned roadmaps and policies in the public, private, and NGO sectors. We work closely with leading experts to develop scientific products that can directly support the collective goal of limiting global temperature rise to 1.5°C across three pillars of action - renewable energy transition, nature conservation/restoration, and regenerative agriculture. We also produce executive briefings and communications assets about the science and solutions pathways to inform stakeholders and decision-makers advocating for key policy shifts.
One Earth Climate Model
At the core of our work is a groundbreaking climate model entitled Achieving the Paris Climate Agreement Goals (Teske et al. 2019), which provides a roadmap for limiting global average temperature rise to 1.5°C. This research, supported by One Earth, was the culmination of a two-year collaboration with 17 leading scientists at the University of Technology Sydney (UTS), two institutes at the German Aerospace Center (DLR), and the University of Melbourne's Climate & Energy College. The 500-page book was released by the prestigious scientific publisher Springer Nature, quickly becoming the most downloaded climate text in the publisher's history and cited in dozens of scientific papers. The model provides the least-cost pathways for decarbonizing our energy system and shows the powerful role forests and agricultural systems can play.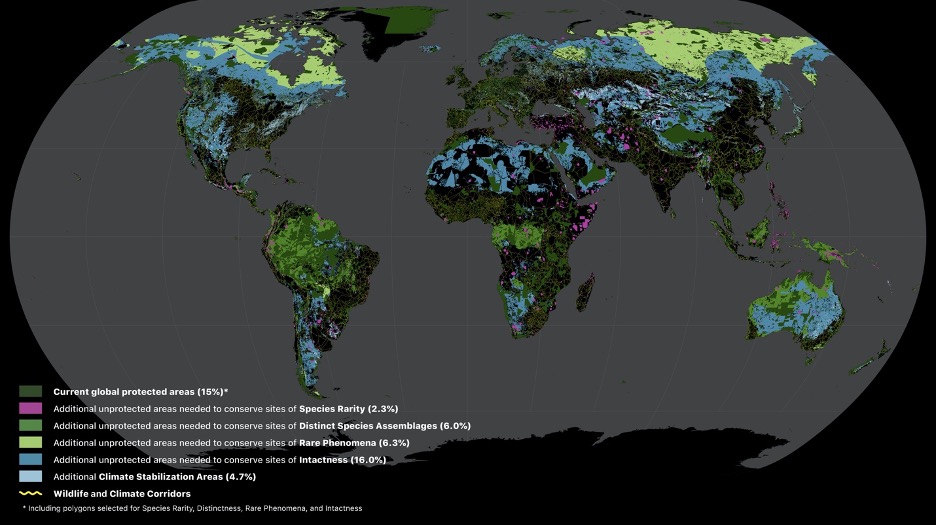 The Global Safety Net
One Earth also spearheaded the development of The Global Safety Net (GSN), the first comprehensive global-scale analysis of terrestrial areas essential for biodiversity and climate resilience, totaling 50.4% of the Earth's land. The report was published in Science Advances and is also available through an interactive web application (GlobalSafetyNet.app) that allows users to click on a country, state, or ecoregion to see configurations of biologically important land for each region. The GSN is quickly gaining momentum and influencing conservation and climate policy at the international and regional levels. In 2021, the GSN was honored by Fast Company as a "World Changing Idea" in the Data & AI category. Earlier this year was awarded silver for the "Best Strategy in Sustainability, Environment & Climate" category in the inaugural Anthem Awards.
These groundbreaking scientific efforts, along with many others currently underway, provide a global blueprint and regional roadmaps to help drive swift climate action from the top down and the bottom up, influencing climate policy and empowering the climate movement with data they need to make science-backed demands. These scientific efforts can also inform how capital can be distributed -- what needs to happen, where it needs to happen, and by when. It provides the clarity and confidence to invest in solutions that work, turning science into meaningful climate action.
Philanthro-activism: Scaling Solutions from the Ground Up
To solve the climate crisis, we need significant financial investment to power and scale solutions on the timeline our planet needs. Philanthropy must play a catalytic role in unlocking the necessary ambition to move public and private investments. This is a reason why Earth's Call recently joined forces with One Earth. The shared mission and values resulted in a seamless collaboration in order to rapidly address the climate crisis.

One Earth Project Marketplace
One Earth sees an opportunity to scale climate philanthropy by democratizing access to innovative and impactful projects worldwide, enabling anyone to directly contribute to efforts led by communities and grassroots leaders that are largely under-resourced and unseen. To make this possible, we created the One Earth Project Marketplace, a first-of-its-kind online database of vetted projects currently seeking funding, contributed by our global network of partners.
The projects are displayed on our interactive navigator globe, organized through our unique bioregional framework and organized by our three pillars of action to solve the climate crisis — Energy Transition, Nature Conservation, and Regenerative Agriculture. Since launching the Project Marketplace in late 2020, we have sourced and vetted over 100 projects across 66 bioregions, from the Canadian tundra to the Australian rainforest. In total, we have provided over $2.7 million in grants to marketplace projects.
Daughters for Earth
In partnership with noted women's rights activist Zainab Salbi and philanthropist Jody Allen, One Earth recently launched Daughters for Earth, a new campaign and philanthropic fund that aims to mobilize $100 million for women-led efforts to protect and restore the Earth. Since launch, Daughters has awarded over $2M in grants to 93 women-led and operated projects, all of which were sourced from the One Earth Project Marketplace.
Inspiring Media: Taking Back the Climate Narrative
Climate Nihilism has, unfortunately, gone viral, especially among the younger generations. Current studies show that while most people understand that climate change is happening, many believe that worst-case scenarios are likely, and some believe it's already too late. A few years ago, "climate deniers" were derailing progress, but today, the greatest threat to solving climate change is a sense of hopelessness.

We need everyone to know that the 1.5°C goal is achievable if we act together with focus and determination. To spark this level of collective action to solve the climate crisis, One Earth produces communications across our platforms that tell the story of the transformation that is already underway and the just and vibrant future that is possible. We create diverse content that aims to educate, inspire and grow a global community of people advocating for climate solutions in every bioregion of the world, ultimately mobilizing everyone to become a climate champion by supporting the efforts on the Project Marketplace.
Video Program
Through our robust communications platform, we have produced over 250 short-form videos (in 600+ formats) telling the stories of the everyday heroes in communities around the world, the changemakers implementing solutions to the climate crisis, and highlighting the immense beauty of Earth's cultural and biological diversity.
As part of our Local Climate Solutions Fellowship, we've supported 18 young environmental journalists around the globe who have published a total of 90 stories highlighting innovative climate solutions and inspiring leaders from their respective regions. In total, we have over 700 articles on the One Earth website to connect a vast audience to climate heroes, keystone species, locally-led climate solutions, breaking environmental news, and important science breakdowns.
The Global Deal for Nature
Our content has been reproduced in over a dozen languages, and our Global Deal for Nature petition, calling for the protection of 50% of Earth's lands and oceans, continues to garner attention and has over 3.5 million signatures​​. There is a growing appetite for solutions-focused, science-based content. One Earth is uniquely positioned to build a broad public movement of engaged and optimistic changemakers and inspire them into collective action.
Together, we can solve the climate crisis.
Awards and Affiliations