One Earth is a philanthropic organization working to accelerate collective action to stay below 1.5°C in global average temperature rise. The solutions for the climate crisis already exist, and the latest science shows we can achieve the 1.5°C limit through three pillars of action – a shift to 100% renewable energy by 2050, protection and restoration of half of the world's lands and oceans, and a transition to regenerative, climate-friendly agriculture. To achieve these goals, we must rapidly scale philanthropic capital to meet critical funding gaps over the coming decade.
At One Earth, we believe it's possible to solve the climate crisis. Our optimism is fueled by groundbreaking science, the game-changing potential of philanthropy, and the power of community-led action. Our organization has three corresponding programs -- Science, Philanthropy, Communications -- which work in unison to help scale effective climate philanthropy. The Science program lays the foundation for a vision of the future that's possible. The Philanthropy program works to direct resources to priority regions and projects. And the Communications program builds a new narrative focusing on climate solutions, marketing high-priority projects to a broader audience.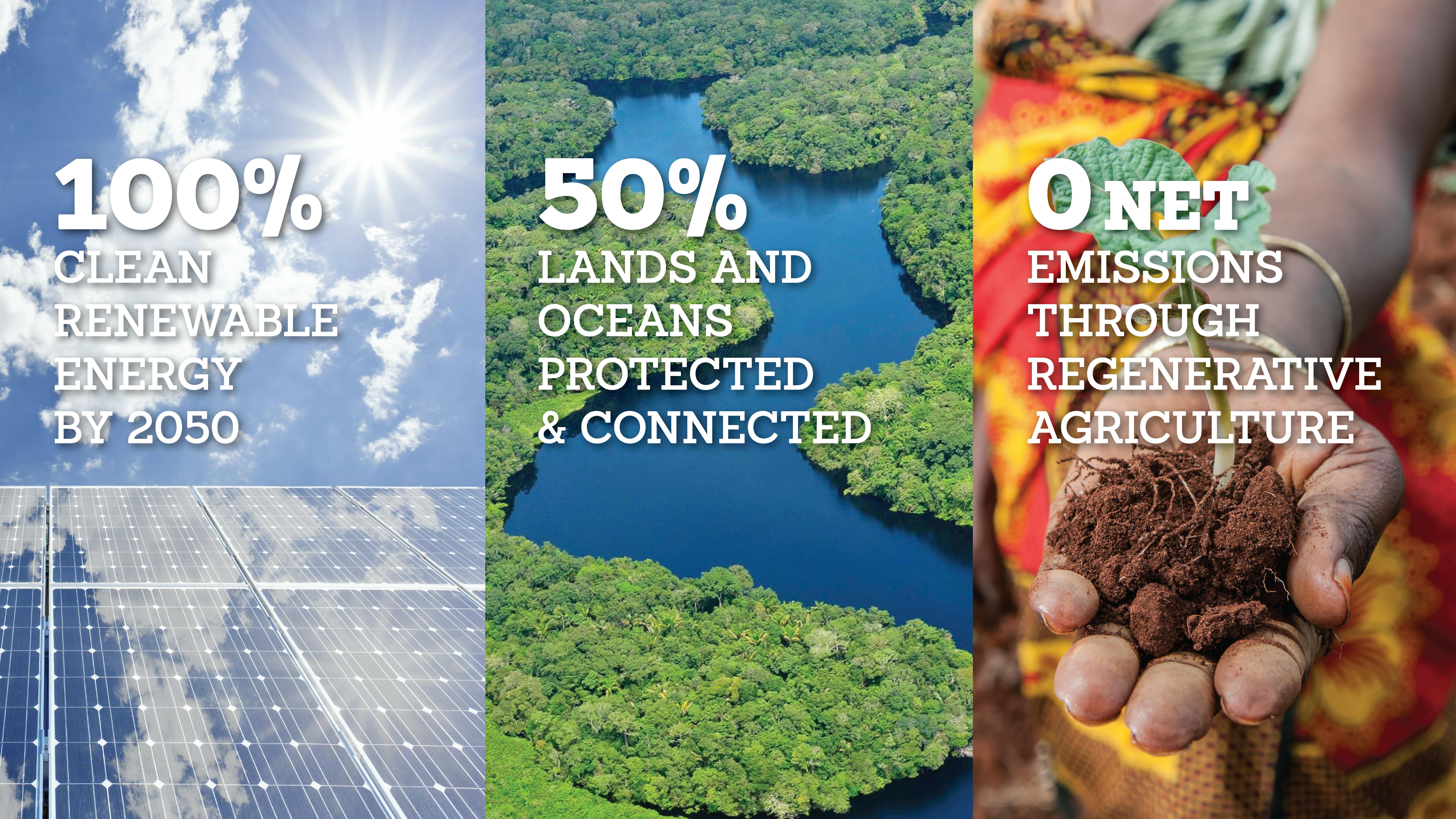 Science: Proving What's Possible
The solutions for the climate crisis already exist. One Earth funded a groundbreaking research effort entitled Achieving the Paris Climate Agreement Goals (Teske et al. 2019), which gives us a roadmap for keeping the world below 1.5°C in global average temperature rise. The culmination of a two-year collaboration with 17 leading scientists at the University of Technology Sydney (UTS), two institutes at the German Aerospace Center (DLR), and the University of Melbourne's Climate & Energy College, the 500-page book was released by the prestigious scientific publisher Springer Nature and has quickly become the most downloaded climate text in the publisher's history, cited in dozens of scientific papers. It provides least-cost pathways for decarbonizing our energy system and shows the powerful role of nature-based solutions, including shifts required in our agricultural system.
One Earth is taking this work forward by supporting science & technology efforts focused on solving three complex, interconnected challenges – climate change, biodiversity loss, and food security. These include:
Energy Transitions: regional decarbonization pathways for energy sectors, housed at University of Technology Sydney
Global Safety Net: regional and global data products for protecting and restoring natural lands, housed at Resolve
Feeding 10 Billion: advanced simulation of global food systems under 1.5°C of warming to provide sustainable nutrition, housed at University of Minnesota
Science can inform how capital can be distributed -- what needs to happen, where it needs to happen and by when. It gives us the clarity and confidence to invest in solutions that work and helps turn science into action.
Philanthropy: Scaling Solutions from the Ground Up
Millions of people in communities and organizations around the world are working to drive the shifts to stay below 1.5°C. They are transitioning their communities to renewable energy, protecting and restoring natural ecosystems, and switching to regenerative agriculture practices. They are doing all of this work with limited resources, sometimes against seemingly insurmountable odds. These leaders need support today.
However, environmental causes receive less than 2% of global philanthropy, with frontline community projects receiving less than 1%. To solve the climate crisis and build the future we want, we must radically scale climate philanthropy to target these on-the-ground efforts. One Earth's mission is to mobilize significant philanthropic capital -- from high net worth families, companies, and everyday citizens -- to provide urgently needed resources to leaders, organizations, and communities who are implementing climate solutions today. This is a reason why Earth's Call Fund recently joined forces with One Earth. The shared mission and values resulted in a seamless collaboration in order to rapidly address the climate crisis.
This fall, we launched an online global marketplace of non-profit projects in need of funding that directly contribute to achieving the 1.5°C goal. The projects are organized through a biogeographical framework within the three main solutions pathways of One Earth, connecting capital with changemakers on the ground.
Communications: Taking Back the Climate Narrative
Climate Nihilism has, unfortunately, gone viral, especially among younger individuals. Current studies show that, while most people understand that climate change is happening, many believe that worst-case scenarios are likely, and 12% think it's already too late. A few years ago, "climate deniers" were derailing progress, but today the greatest threat to solving climate change is a sense of hopelessness. We need everyone to know that the 1.5°C limit is achievable if we act together with focus and determination.
One Earth works to raise awareness about the urgency of the 1.5°C limit and what needs to be done to get there focusing on three key audiences. We showcase inspiring projects of community-led action to attract investment in frontline solutions around the world. We produce executive briefings to inform stakeholders and decision makers advocating for key policy shifts. And we use social media to build a broad public movement of engaged and optimistic changemakers, telling the story of the transformation that is already underway and the just and vibrant future that is possible.
Sign up for our the One Earth Newsletter.